Balcon del Mediterraneo (The Castle Viewpoint) in Benidorm
Tourist information and guide to Balcon del Mediterraneo (The Castle Viewpoint), Benidorm, Costa Blanca...
---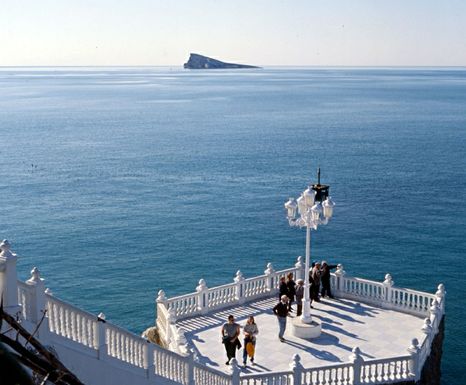 The Cerro Canfali headland that is veined by narrow lanes and alleys, converges in the light-filled Balcón del Mediterráneo belvedere, whitewashed and decorated with blue tiles, an ornamental motif repeated along the balustrade that graces stretches of the seafront of Benidorm.
The Balcon del Mediterraneo is situated on top of the rock separating the two beaches of Benidorm was the fortress built to defend the people from the Algerian pirates raids during the XIV, XV and XVI Centuries.
Afterwards the castle was abandoned and today visitors may only see the remains of the walls on the rocks of the viewpoint which is also known as "The Balcony of the Mediterranean".
---