Benidorm Old Town
Tourist information and guide to Benidorm Old Town, Benidorm, Costa Blanca...
---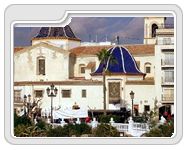 The
Benidorm Old Town
is situated aside the promontory that separates the two Benidorm beaches. The Cerro Canfali headland that is veined by narrow lanes and alleys, converges in the light-filled Balcón del Mediterráneo belvedere, whitewashed and decorated with blue tiles, an ornamental motif repeated along the balustrade that graces stretches of the seafront of Benidorm. This small Old Quarter corresponds to the original fishing village and is presided over by the blue-tiled domed roof of the 18th century San Jaime Parish Church. In the area around the traditional city centre of Benidorm are the main shopping streets where holidaymakers may find and buy fashion items, handicrafts and souvenirs.
From the late 19th century, Benidorm has only kept its layout, but it is worth wandering through its narrow streets. The
"Paseo de la Carretera"
delimits the Old Town.
A good way to discover the Old Benidorm, would be starting the walk at the beginning of Levante Beach, from
"Plaza del Torrejó" (Tower Square)
, next to the Tourist Info Office, and walk up through "Carrer dels Gats" (Cats street), a narrow street with steps and designs on the floor, made out of cobbles, crowned by small archways holding pots with colourful blooms.
On top of this alley we come to the
18th century Neoclassical Church of "San Jaime"
. At the left, the
"Plaza de San Jaime"
has a viewpoint over the Levante beach. An archway leads you to "Plaza Castelar", and "Plaza del Castell", where the Castle used to be, and where nowadays you will find the Castle Viewpoint, one of the most typical sights of the Mediterranean.
Some cannons recall the events that took place during the war of independence against Napoleon´s army. In 1812, the French Army started the proceedings to get the title of "City of the Emperor" for Benidorm, but the British fleet bombed the Tower of Piera ("Castle"), and took the French away. Following the balustrade, you will find, "La Señoría" square, where Benidorm pay tribute to seamen died in the sea.
Finally, next to the stairs that lead to the "Paseo de Colón", you will find the
"Condestable Zaragoza" street
, a local hero in the war of Cuba.
Many popular shops in Benidorm are located in the
Avenida Martinez Alejos
of the Benidrom Old Town. The shops along the
Passaig de la Carretera (Paseo de la Carretera)
are worth a visit and visitors may find good leather goods around the Plaza Mayor.
Shopping areas in the Benidorm Old Town
Gambo street
and the
Passaig de la Carretera (Paseo de la Carretera)
are the main and most popular shopping area of Benidorm Old Town region. Also the
streets of lmendros, Tomás Ortuño, Ruzafa and Martínez Alejos
that are opening out to this area are popular shopping places.
---